Human Exposure SAR, ICNIRP Analysis
Human Exposure
Human Exposure SAR, ICNIRP Analysis :
EMCoS Studio는 Human Exposure 를 분석하기 위한 Voxel-Based Human Models 와 Human Exposure Simulation Toolkit 를 제공합니다. 제공되는 Human 모델은 원하는 자세로 변형이 가능하고, 이 때 각 부위별 분석에 필요한 물성 조건이 반영되고, 분석 후 표준 규격에서 제시한 측정치 값을 자동으로 계산 및 plot 해 주는 기능이 특화되어 있어 매우 간편하게 Human 포함한 EM 분석 및 Exposure 값을 산출할 수 있습니다. 이는 전기 자동차와 같은 무선 충전 시스템의 Human 영향성 분석이나 표준 규격 산출값을 얻는데 매우 유용한 방법이며, 실측으로 불가능한 측정을 시뮬레이션으로 산출 및 제품 개선에 반영할 수 있도록 하는 최적의 솔루션입니다.
MoM solution of low frequency magnetic fields interaction with thin 3D sheets characterized by combined resistive and magnetic properties simultaneously with complex 3D dielectric objects

Special calculation approaches for homogeneous and non-homogeneous body models

Import and visualization of human voxel-based models including internal anatomical structures

Various visualization modes and visibility options

Support of voxel model interactive transformations

Manipulation with voxel-based virtual skeleton (move and rotate skeleton bones considering interconnecting joints)

Automatic adjustment of voxel model cubes to skeleton pose

Flexible post processing tools for human exposure analysis for both homogeneous and non-homogeneous models. Visualization of 3D distribution and 2D slices for field, current and SAR values

ICNIRP based Human Exposure Analysis
Voxel-Based Human Models 라이브러리
EMCoS Studio 는 기본적인 Human 해석 모델을 제공하며 이 모델은 각각의 resolution 별 선택할 수 있고, 인체의 가상 골격으로 자세를 변형 가능하도록 제공됩니다.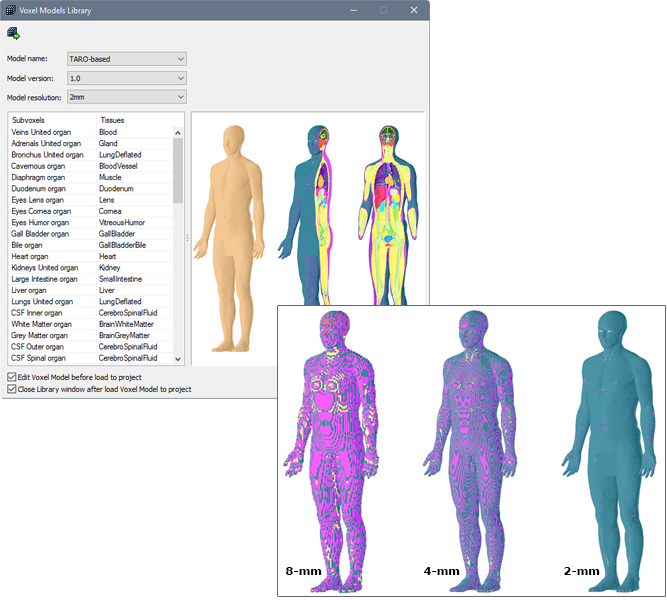 인체 모델의 자세 변형을 위한 기능 제공
EMCoS Studio는 간단한 마우스 조작으로 인체 모델의 자세를 변형할 수 있고, 이에 따른 해석 조건(물성 등)이 자동으로 적용되어 간편하게 여러가지 상황에 따른 Human Exposure 분석이 가능합니다.
---