Hybrid/Electric Vehicles EMC Simualtions
Hybrid/Electric Vehicles

Hybrid/Electric Vehicles EMC Simualtions :
EMCoS Studio 는 전기차 및 하이브리드 자동차의 노이즈 문제 분석에 가장 많이 적용되고 있으며, 특히 복잡한 케이블에 의한 노이즈 커플링과 방사 및 conduction noise 문제를 분석하고 자동차 차체 (Vehicle body & Ground) 및 테스트 모듈의 테스트 조건(Tesh-bench and Ground)을 포함하여 문제를 해결하는데 가장 최적화된 솔루션입니다.

---
Solution for Power Inverter Systems
Circuit modeling of IGBT module
Import and processing of power inverter 3D layout
Fast and accurate extraction of interconnect parasitics for PCB and packaging
Generation of equivalent circuit for precise analysis of disturbances in transient processes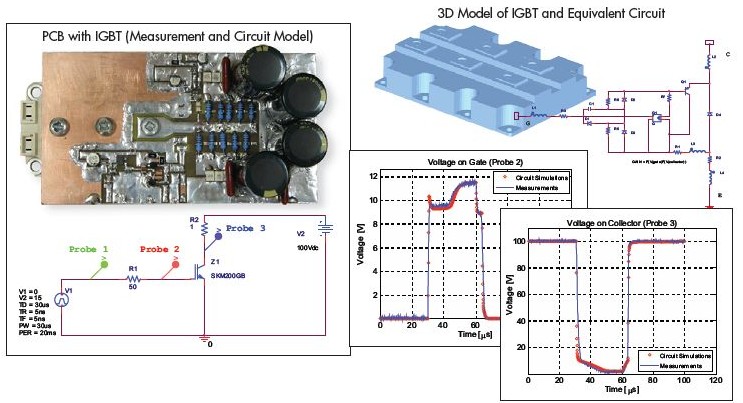 ---
Solution for Low Frequency Magnetic Field
Simulation of current distribution characteristics along a power cable bundle
Analysis of low frequency magnetic field shielding of automotive platform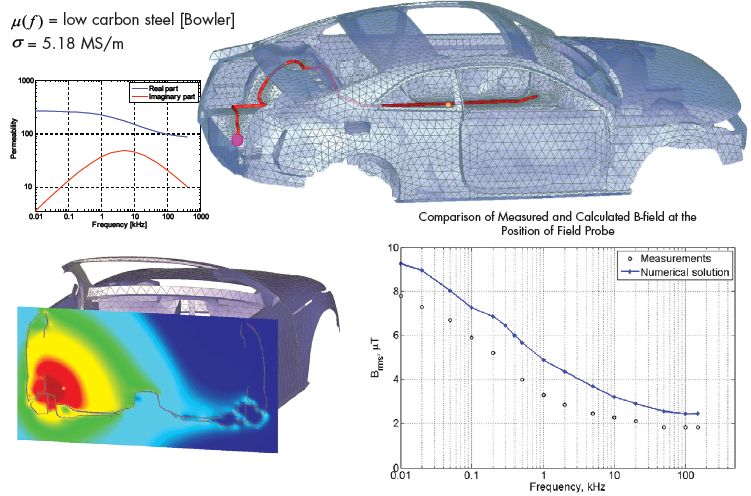 ---
Simulation of Vehicle Wireless Charging System
Optimization of wireless charging systems for more efficient and robust power transfer
Simulations of misalignment effect between on-vehicle capture coil and stationary source coil
Accomplishment of low- radiating power transfer to satisfy safety regulations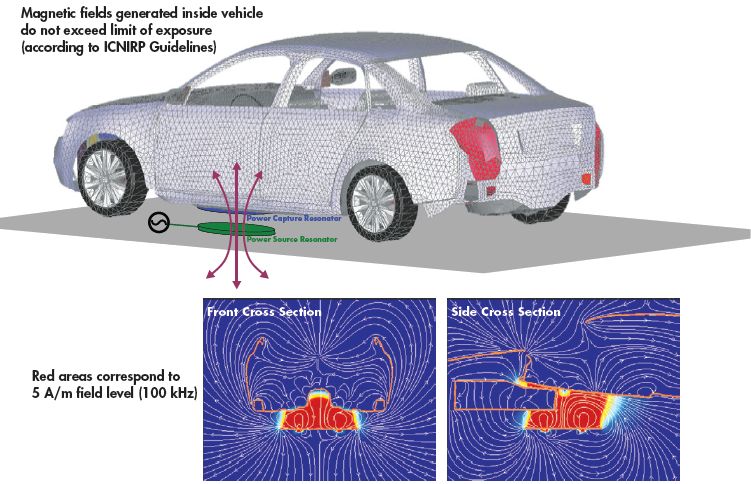 ---
Modeling of Screened Cables in Hybrid Vehicle
Comprehensive analysis of shielding configurations performance for HV cables
Consideration of common-mode discontinuities on the vehicle chassis for full-vehicle analysis of emissions from automotive harness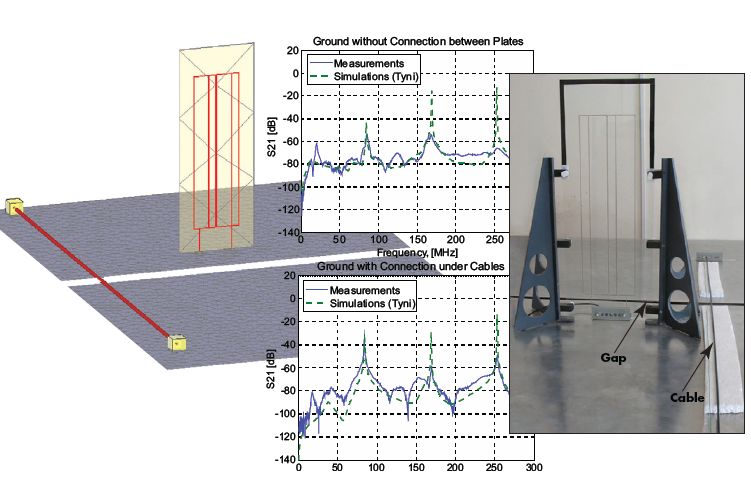 ---
Influence of Cables on Antennas
Cables of different configurations
Minimization of coupling between cables and Antennas
Very good matching between measurements and simulations results
(Results were obtained under common project with AUDI AG, Germany)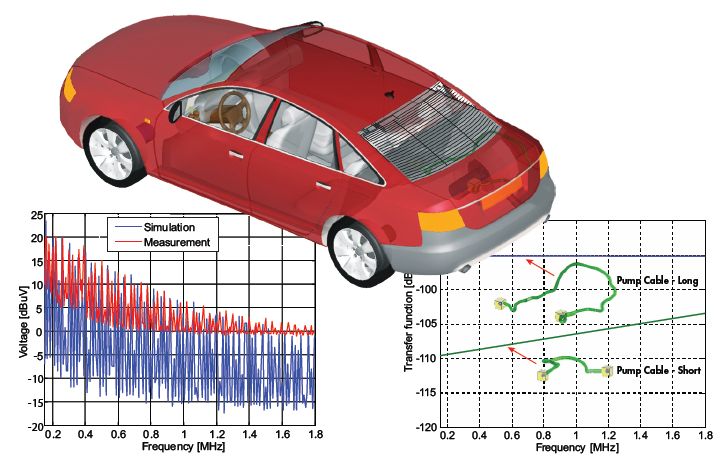 ---
Advanced Conformal Antenna Construction Tools
EMCoS Studio 는 자동차 유리창에 숨겨진 최근 형태의 안테나에 대한 conformal 구조 생성 및 효율적인 분석 방법을 제공합니다.


---
Automotive Glass Antenna Simulations
Import and processing of complex glass antenna models from CAD
Special Green function method for glass antenna analysis
Validation of simulation results with measurements
(Results were obtained under common project with AUDI AG, Germany)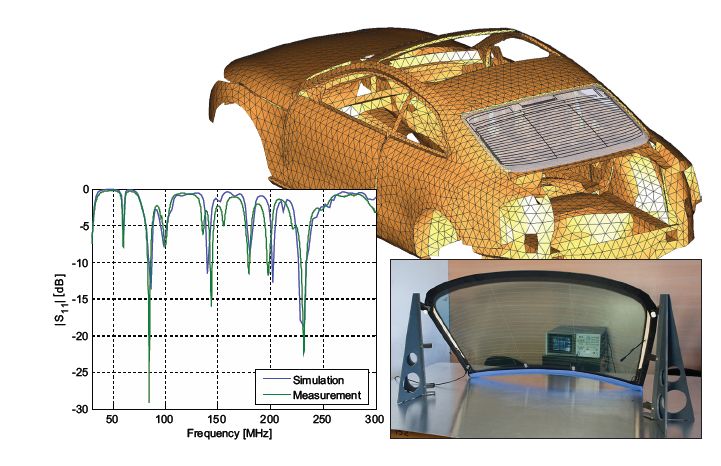 ---
Antenna Placement Analysis
자동차에서의 안테나 최적 위치 선정을 위해서는 자동차 포함한 안테나 분석이 필요하고, EMCoS Studio 는 자동차 포함 안테나 해석에 매우 빠른 해석 방법을 제공하므로, 자동차에서의 배치에 따른 안테나의 성능과 안테나간의 커플링에 의한 문제등을 분석하는데 최적의 솔루션입니다.

안테나 관련 사례 :
Smart Entry System Simulation
Automotive Glass Antenna Simulation
Interaction of Complicated Harness with Antenna
Radiation from TWP Cable to Planar Glass Antenna
Radiation from TWP to Monopole Antenna
---
Simulation of CAN System
Cross Talk and Sl in CAN systems
Modeling of multiplexed wiring systems
Modeling of complex CAN devices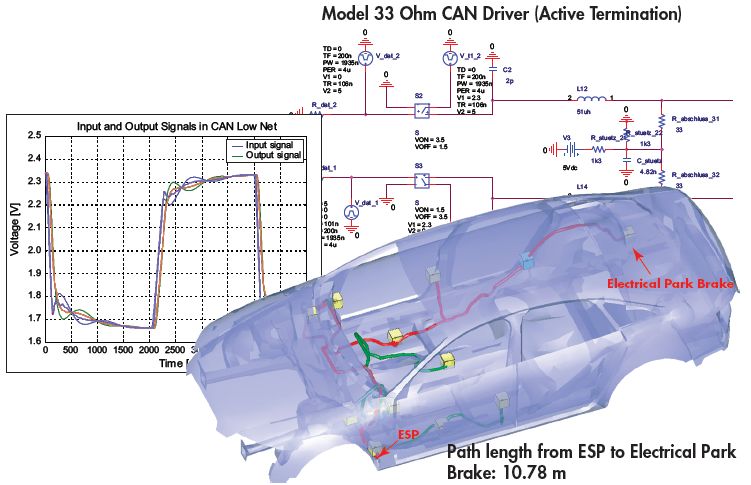 ---
Analysis of Random Multi Cable Bundle
Radiated emission from industrially produced cables
Model of random cross-sections of stochastic bundle
User-defined stochasticity level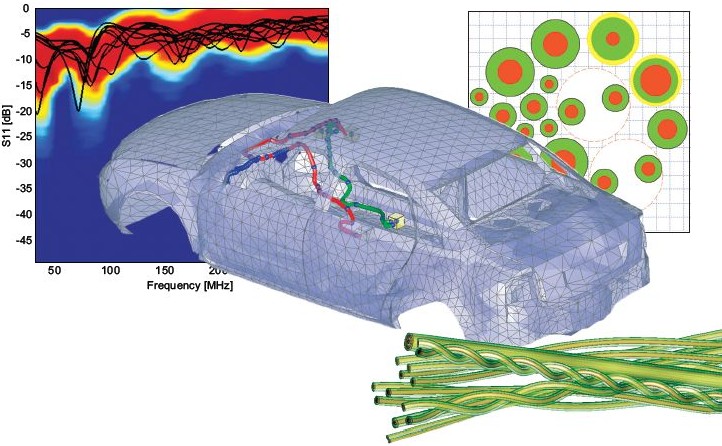 ---