Component/Module/Cable and System Level EMC Testing
Component/Cable/System EMC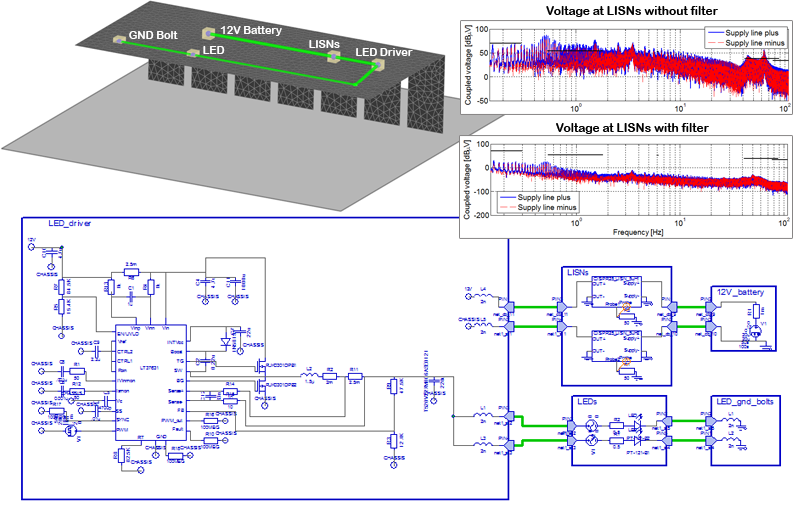 Component/Module/Cable and System Level EMC Testing :
EMCoS Studio 는 시뮬레이션 기반의 virtual testing 환경을 구축하여 Cable 과 Ground 의 test 조건을 포함하여 여러가지 EMC 표준 측정에 대한 radiation 및 conducted emissions 분석이 가능합니다.
The virtual bench simulation data workflow consists of the following main steps:
Importing and processing of 3D CAD models of test setups

Construction of cable system

Construction of circuit models of test components

Assembling of complete system diagram

Running simulation and results analysis
EMCoS Studio 이용한 테스트 사례
Accurate Absorber Modeling
Simulations with Anechoic Chamber
Construction of Equivalent Circuit Model for Capacitive Voltage Probe
Modeling of Electrostatic Discharge (ESD)
Modeling of Electronic Devices using Near Field Sources
Interaction of Complicated Harness with Antenna
Double Shield Effect
Investigation of TWP with Losses
Signal Integrity in CAN
Cables with Three Splices
---
EMCoS Studio 이용한 Shielded Cables 분석

EMCoS Studio 는 매우 복잡한 구조의 Shielded Cables 에 대한 설계 방법 및 분석 방법을 제공합니다. 복잡한 Braided/Solid/Foil 구조 및 하이브리드 형태로 다층으로 구성된 차폐 케이블의 Transfer Impedance 를 바로 계산해 주고, 임의의 3차원 구조로 drawing 된 3D 모델(*.nas)에 대해서도 Transfer Impedance 를 계산할 수 있는 방법을 제공합니다.
3D transfer impedance simulations of regular and non-regular braided shield structures




Automatic reconstruction of 3D shield structure from shield parameters




3D shield structure definition from external geometry file




Automatic generation of different carriers braiding modes (Two Layers: No Crossing, Single Crossing, Double Crossing; One Layer: Clockwise, CounterClockwise)




Support of plating material for shields and filaments definition




Support of circular and elliptical filaments shape




Support of C-leakage calculation for braided shields



---
EMCoS CM Choke Designer 이용한 CM Choke 설계
EMCoS Studio 는 CM Choke 를 간단하게 파라미터 입력으로 설계하고 바로 분석할 수 있는 CM Choke Designer 기능을 제공합니다.
Generation of choke 3D model in SAT file format based on CM Choke Designer project

3D model generated from CM Choke Designer contains analytical surfaces for representation of choke, plastic case and windings geometry as well as windings path curves

Validation of 3D model to detect collision between winding turns

New Winding Turns dialog for advanced handling of winding turns and definition of custom inner and outer angles

Importing and exporting winding turns data



---
EMCoS Studio 이용한 Antenna 분석
EMCoS Studio 는 다양한 형태의 안테나에 대해 매우 간단하고 빠른 모델링 라이브러리 및 분석 방법을 제공합니다.
Waveguide and wire antennas, antenna arrays

Large reflectors and beam forming antennas

Patch and microstrip antennas

Planar and conformal glass antennas

High frequency modeling of microstrip structures

5G and MIMO antenna simulations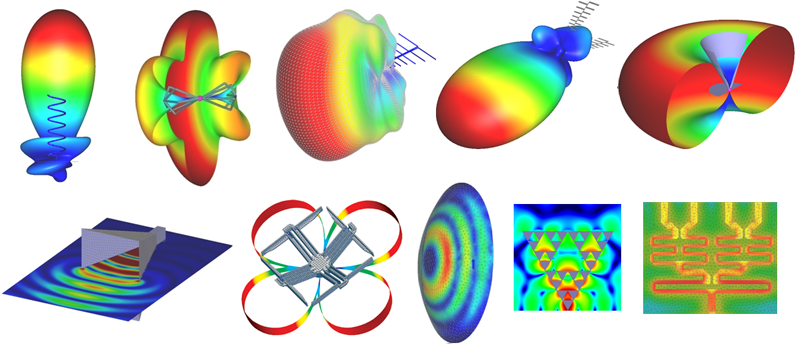 ---