ANSYS 2022 R1 (2022 Major Update R1) 이 출시되었습니다.
2022 년도 Major Update 첫번째 버전이므로 추가된 새로운 기능과 향상된 성능을 확인하시기 바랍니다.
유지보수 사용자의 경우 www.ansys.com ->Customer Center -> Customer Portal 에 접속하셔서 아래의 버전을 다운로드 및 설치하실 수 있습니다.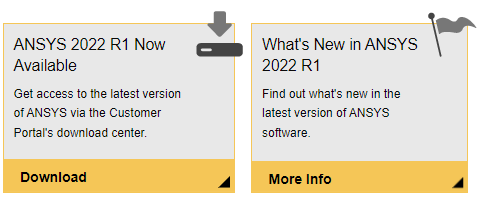 What's New 자료들에서 신규 기능의 Highlights 들을 확인할 수 있습니다.
---

Signal & Power Integrity 신규 기능 요양 :
SIwave
- AC 해석 시 온도에 따른 물성(유전율, 도전율) 값 반영, 영역 별 온도 분포에 따른 물성 반영, Icepak 의 온도 맵과 연동
- 자동 HFSS 3D Layout 해석 영역 설정
- EDB-based Region Clipping : HFSS 영역에서 Waveports 설정
- Stakup Wizard : 다중 도체에 의한 전송 선로 해석, Fully parameterized 2D extractor export, 회로 스케메틱과 Touchstone file, Cross section 의 W-element 모델로 연동
- SIXplorer : Via Wizard-Freeform stitching via placement, top-down preview in via dialog, impedance wizard to via wizard, stackup/padstacks import
- Impedance Wizard : save/restore UI
- EMI Scanner : 향상된 rule-check 기능들
- DDRwizard : DDR schematic organized into logical tabs 등 기능 추가
- CPA Solver : Multi-Die, Multi-PLOC/CPM 연결, CPA-Q3D 해석에서 Adaptive process 향상, Smart pin group 향상, PLOC to smart pin group matching
Q3D Extractor
- 자기장 필드 visualization for AC-RL
- Uniform current terminals for AC-RL and DC-RL : 파워 모듈과 같이 터미널 크기가 큰 경우 해석 정확도 향상
Circuit
- 다중 TDR 프로브 설정 시 정확도 향상
- Passive DC Fit 향상
- Dynamic Link Freq. Sampling Points
- PSPICE model export for Q3D RLGC State-Space Fitting
- Network Data Explorer : NDE Scripting 지원 , Limit Lines 기능 추가
- SPISim : State Space Model 지원, COM 기능 사용 편의성 향상 및 spec 추가
HFSS 3D Layout
- Mesh Fusion : Mesh Fusion 에 Phi+ 사용 가능 -> 보다 복잡한 구조 조합의 Meshing 향상으로 Mesh 시간 및 성능 향상
- IC and GDS workflow : GDS import 시에 자동으로 구조 단순화 및 최적화, Solve-inside by region, Add TSV option to via layer
- 3D Layout Component : Any EDB can function as a component, Encrypted Technology 향상
- HFSS 3D 에서 PCB 3D layout aedb 를 import 하여 배치
- Broadband Fast Sweep : projection-based model order reduction 기법 적용, 매우 빠르고 정확한 광대역 스윕 가능
- Fields Post-Processing 등 기능 추가
EMA3D Cable
- EMA3D 와 Nexxim Transient 회로 시뮬레이션 연동
- 재질 및 케이블 라이브러리 기능 향상
- Cable 과 도체의 연결 기능 향상
EMA3D Charge
- 비접촉 ESD, arc 문제 및 유전체 파괴 현상을 해석
- EnSight 연동
Thermal Integrity 신규 기능 요양 :
Icepak
- Redhawk CTM 2-way & New Delphi Network Creation
- Blower Modeling
- Wirebond & IDX ECAD Import
- Maxwell 2D EM loss 연동
- 2.5D mesher 향상
- Streamlines 뷰 기능, Validation 기능 향상
- Network Schematic 및 Toolkit 향상
Mechanical in AEDT
- Maxwell 2D - Thermal EM loss 연동
- 온도에 따른 물성 입력
- Force 와 Pressure 를 인가 가능
- Displacement Excitation 지정 가능
- Thermal Stress 해석 - Mechanical Thermal 연동
---

High Frequency 신규 기능 요양 :
HFSS 3D Layout
- Phi Plus Meshing in HFSS Mesh Fusion : ECAD+MCAD 결합 모델의 최신 meshing 기법 , multi core 이용 시 병렬 meshing 으로 core 개수만큼 속도 향상, Mesh 에서 매우 개선됨
HFSS 3D
- Mesh Fusion 기능 향상 : Component Priority
- Layout Component in HFSS 3D
- Automation 기능 향상
- Mixed Metallic and Dielectric IE Region
- Transient Solver 향상
- Secondary Electron Emission 모델 정확도 향상
- Auto Select Solver Direct/Iterative
- SBR+ 기능 및 속도 2X-10X 향상 , Surface Roughness for Accelerated Doppler Processing 등
EMIT
- AEDT EMIT 로 변환 및 AEDT 에서 해석
Low Frequency 신규 기능 요양 :
Maxwell
- New Poly-Phase Electrical Machine ROM
- Litz wire loss prediction with Temperature Feedback
- System Push-Back Excitation for 2D/3D Magnetic Transient
- Multiphysics Optimization with Motor-CAD and optiSLang
- Concept NVH Analysis with Motor-CAD
- 3D A-Phi Solver 향상
- Expression cache 성능 및 속도 향상
- Original object-based force data plot in "Create Transient Result"
- Option ro Set Freq. Range of Harmonic Force Calculation
- MPI support for Skew Model
- Motor Toolkit for Induction Machines Change Sweep Variable from Frequency to speed for IMs
- Combine Efficiency Map of Motor model and Generator Mode