Table View
The Table-View module of Harness Studio shows information of a harness data file in table format. This module gives to you a free configurable view of all objects available in the harness database. Comfortable search and sort functions allows you to find what you are looking for in a very short time. Groups of objects can be generated to organize e.g. systems or nets. Groups and single objects can be imported and exported to generate user defined data sets.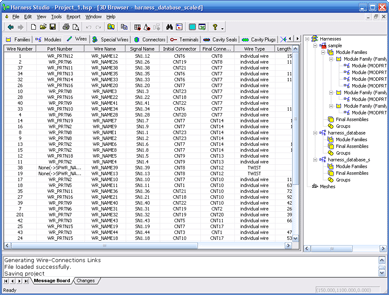 3D View
The 3D Module visualize the cable harness in a realistic way. The cable harness can be zoomed, moved and rotated with mouse or keyboard. Comfortable browsing through the cable harness can be done as it was possible till now only with high performance workstations running under Unix with expensive software programs. Due to full interaction?with the Table-View and Schematic-View Module, user can select objects in any view and see directly the represention in other modules.
Schematic
The Schematic-View module of Harness Studio shows information of a harness data file in well known 2D schematic format. But Harness Studio can do much more here. Interactively user can browse through the cable harness, follow nets or find connectors. Enlarge the view, by opening connectors or reduce the view with some mouse clicks. Different colors help to identify cable and connector types.
Configured schematics can be exported to clipboard for further processing or printed.
Expert System
Harness Studio Advanced provides integrated Expert System for checking complex cable harnesses on compliance with arbitrary electrical, mechanical, and economical rules.
The underlying Expert System language CLIPS is both very flexible and fast. Powerful calculations can be done directly on arbitrary data objects using the large amount of provided operations of the Expert System module. Usage of Expert System functionality is very comfortable due to the sophisticated pre and post processing functions. Similar to the natural language IF-THEN rules can be formulated to be applied to cable harnesses.
The Expert System mod ule brings cable harness CAD into a completely new area. Rule definition language is extremely flexible and gives access to all cable harness objects and most properties. Applying hundreds of rules on very large harness data sets is only an issue of some seconds.